IT WAS LATE, I WAS SLEEP DEPRIVED, I WAS TALKNG TO MY 'MUMMY-SETSUKA' (
yoru_yume
) VIA TEXT, ABOUT HER HAIR...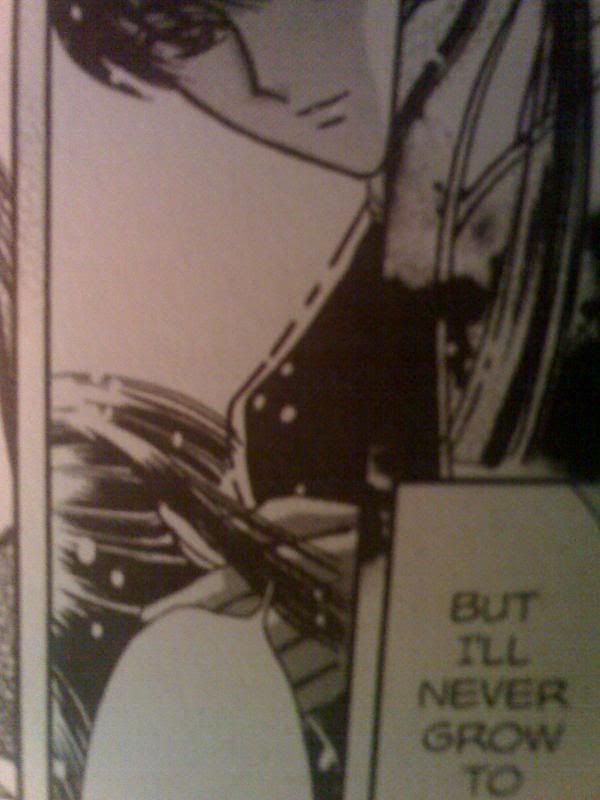 -SEE? TRUST SEI-CHAN, HE KNOWS HIS HAIR! IF YOU NOTICE THAT TEXT IS A TYPO. IT'S NOT "BUT I'LL NEVER GROW TO.." IT IS IN FACT "BUT IT'LL NEVER GROWN TO…THAT LENGTH" (SEE SHE WAS TELLING HIM SHE WANTED HER HAIR TO GROWN TO HER ANKLES BEFORE SHE DIES. HE WAS TELLING HER SHE WAS SILLY)
THEN MUMMY SAID... -AHAHAHAHA! ALL OF THE TEXT IN THAT BOOK IS A TYPO…
AND SEI-CHAN SAID... -I KNOW. IT'S REALLY ABOUT SEI-CHANS HAIR DRESSING CAREER. AND THE PEOPLE WHO ARE TRYING TO STOP HIM FROM ACHIEVING HIS DREAM
MUMMY... -AND HOW *NICE* HE IS WHEN HE DOES IT.
SO SEI-CHAN TOLD HIS STORY...
-YES EXACTLY. HIS MUMMY WAS HIS FIRST CLIENT AND THEN HE BOOKED IN SUBARU. HE EVEN WROTE THE APPOINTMENT DETAILS ON HIS HANDS (HE HADN'T HAD HIS BUSINESS CARDS PRINTED UP YET) SO HE WOULDN'T FORGET. HE MADE THEM INTO A PRETTY STAR AND EVERYTHING. AND SUBARU TOOK CARE NOT TO WASH THEM OFF SO HE WORE GLOVES BUT SUBARU'S GRANNY DECIDED SHE WANTED THE APPOINTMENT SO MAGICKED THE GLOVES SO HE COULDN'T SEE THE DETAILS AND WOULD FORGET.
AND HE DID FORGET. SO SEI-CHAN CAME BACK AND HUNG AROUND TO SEE IF HE WOULD REMEMBER. HE EVEN GOT HIS EYE CUT OUT TO TRY AND MAKE HIM REMEMBER, THE CUTTING REFERENCE YOU SEE. AND SUBARU STILL DIDN'T REMEMBER AND SO HE CRIED BECAUSE HE KNEW HE HAD FORGOTTEN SOMETHING IMPORTANT.
SO HOKUTO SAW HER CHANCE AND WENT TO GET HER HAIR DONE SO SHE DISGUISED HERSELF AS SUBARU AND SEI-CHAN DID IT AND REALIZED IT WASN'T HIM AFTER ALL, BUT BY THEN IT WAS TOO LATE.
SUBARU FINALLY REMEMBERED BUT HE MISSED OUT BECAUSE SEI-CHANS SALON IS SO EXCLUSIVE YOU HAVE TO BOOK YEARS IN ADVANCE. HE EVEN HAD TO MOVE IT TO ANOTHER PLANE SO HE WOULDN'T GET MOBBED BY ANGRY CUSTOMERS NOT PREPARED TO WAIT THAT LONG.
SO THEN SUBARU HAD TO CUT HIS OWN HAIR AND DID SUCH A BAD JOB THAT HE WENT ALL EMO AND JUST LET IT GROW. SEI-CHAN WAS VERY UPSET BECAUSE IT MADE HIM LOOK AWFUL. SO HE TOLD SUBARU, BUT SUBARU GOT ANGRY AND STABBED HIM. BUT SEI-CHAN WAS TRYING TO TELL HIM THE HE HAD JUST HAD A CANCELLATION AND WOULD HE LIKE THE APPOINTMENT? BUT SUBARU HAD ALREADY KILLED HIM. UPON HEARING OF THE CANCELLATION THOUGH SUBARU GOT VERY UPSET BECAUSE HE'S JUST KILLED THE BEST HAIR DRESSER IN THE WORLD AND NOW HAD TO SPEND THE REST OF HIS LIFE CUTTING HIS OWN HAIR.
HE TRIED EXPLAINING THIS TO FUUMA WHO DIDN'T REALLY UNDERSTAND AS HE WAS PURSUING A CAREER AS A CHEF BUT SORELY NEED TO IMPROVE HIS KNIFE SKILLZ AS HE SEEMED TO KEEP SLIPPING AND STABBING PEOPLE.
SO SUBARU WENT OFF AND SAT ON A BUILDING SMOKING AND LETTING HIS HAIR GROW, SLIGHTLY CONSIDERING THE POSSIBILITY OF BEING IN THE SAME ROOM AS FUUMA WHILST HE WAS PREPARING DINNER IN CASE HE SLIPPED AND MANAGED TO CUT HIS HAIR FOR HIM.
FOR SOME REASON THOUGH, KAMUI WOULDN'T LET SUBARU IN THE KITCHEN. SO HE JUST STAYED ON TOP OF THE BUILDING TILL HIS HAIR GREW SO LONG THAT HE LOOKED LIKE A HIPPY. UNTIL ONE DAY WHEN HE LIT IS CIGARETTE HE SET FIRE TO HIS HAIR AND BECAME BALD. FUUMA LAUGHED AT HIS MISFORTUNE AND KAMUI SNIGGERED AT HIM BUT FINALLY LET HIM IN THE KITCHEN. UNFORTUNATELY WHILE FUUMA WAS MAKING SUSHI HIS KNIFE SLIPPED, KILLING SUBARU. IT WAS THEN DECIDED THAT A GIANT SWORD WAS NOT THE BEST CUTLERY FOR THE JOB SO HE AND KAMUI WENT TO THE SHOP AND BOUGHT A BETTER, SMALLER KNIFE. THEY HAD SUSHI FOR TEA AND LIVED HAPPILY EVER AFTER, GOT MARRIED AND HAD THREE CHILDREN.